Michelle D. Siegfried
Michelle D. Siegfried is a native Tulsan and began working in the legal field in 1995. She has an undergraduate degree in psychology from Northeastern State University and a master's degree in counseling from Oklahoma State University. Her internship included hours at Open Arms Youth Project and she currently volunteers in low income Tulsa Public Schools classrooms through Junior Achievement. Ms. Siegfried is also a participant in the Tulsa Chapter of Together Oklahoma.
Ms. Siegfried has been employed by Rosenstein, Fist & Ringold since 2001.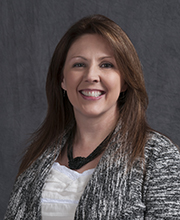 Paralegal
Park Centre
525 S. Main, Suite 700
Tulsa, Oklahoma 74103
918.585.9211
800.767.5291 Toll Free
918.583.5617 Fax